History

Coca-Cola was invented in May, 1886, by Dr. John S. Pemberton in
Atlanta, Georgia. The name "Coca-Cola" was suggested by Dr. Pemberton's
bookkeeper, Frank Robinson. He penned the name Coca-Cola in the flowing
script that is famous today. Coca-Cola was first sold at a soda fountain in
Jacob's Pharmacy in Atlanta by Willis Venable. During its first year, sales of
Coca-Cola averaged six drinks a day -- adding up to total sales for that year of
$50. Since the year's expenses were just over $70, Dr. Pemberton took a loss
Today, Coca-Cola products are consumed at the rate of more than 834 million
drinks per day.

Coca-Cola Conquers the United States.

In 1891, nine years prior to the invention of the paper clip, Asa Candler was the
owner of the five-year-old Coca-Cola business. (He'd acquired it for $2,300) He'd
been dabbling in a few other products, but unloaded them to focus full-time on
the drink that would make him a successful man.

Candler incorporated The Coca-Cola Company, registered the "Coca-Cola"
trademark with the U.S. patent office and paid his first dividends on company
stock in 1893. Twenty bucks.

He personally oversaw the mixing of every drop of syrup. The secret formula was
dubbed "7X", and was only shared with a handful of his most trusted associates.

A short three years later, thanks to some inventive advertising and promotions --
like souvenir fans, calendars depicting robust young women and countless
novelties -- Coca-Cola had made its way into every state in the U.S.
('Course, we were still two states short at the time.) The Coca-Cola script had been
splashed across roughly 2.5 million square feet of brick walls across America.

Candler figured he just had to get people to try Coca-Cola and they'd buy it.
History's proved him right, of course it helped that he branched out beyond
soda fountains. It took the initiative of a Mississippi candy store operator,
impressed with the raging demand for the product, to actually start bottling it in
the rear of his store. His idea was that people should be able to take their
refreshment with them wherever they go.

In 1899, large-scale bottling was ushered in by two Chattanooga, Tennessee
entrepreneurs who -- for a dollar -- bought the rights to bottle and sell Coca-Cola
across the United States. That operation was the forerunner of the largest, most
widespread production and distribution network in the world.

But their straight-sided bottles look nothing like the ones we grab today.

A Little Barn Painting History...
The Coca-Cola spencerian script, usually accompanied by the word "drink", began
popping up on the sides of buildings and barns walls all over Georgia, soon after
the Coca-Cola Company was formed. So much so, that by 1908, 2.5 million square
feet of America's walls were covered in reminders to "drink Coca-Cola". By the
1960's, other means of advertising had emerged, so the company moved onto
more modern methods of promotion. To remind us all of the good old days,
Tom McClain, author and photographer of the book Coca-Cola Dreaming, has
traveled all over the Southeast United States photographing Coca-Cola paintings.
He has included in his book, over 100 photos, some dating back to 1905. To get
a copy of this interesting book, call Crane Hill Publishing at 1-800-841-6824.


On May 8, 1886,107MariettaStreet, Atlanta druggist Dr. John Stith Pemberton (former Confederate officer) invented "Coca-Cola" syrup.Dr Pemberton,Like so many other others of the day,called himself "Doctor" but no evidence of a formal medical degree has ever been found.After the war Dr Pemberton worked hard to rebuild his life.He stayed in his hometown of Columbus Ga. for 4 years after the war but by 1869 he decided to move to Atlanta ,where he set up business as a Druggist and Pharmaceutical chemist.By 1870 he joined with other businessmen to form Pemberton,Wilson,Taylor and Company.

Pemberton was a wizard at creating medicine but not very good at creating a profit.It was the others that reaped the rewards of his creations. During the next 15 years he had made a name for himself with some of the mecicines that he had invented.Gingerine, Globe of Flower Cough Syrup, Indian Queen Hair Dye, and Triplex Liver Pills.Somewhere between the Liver Pills and Hair Dye he came up with the idea for a new tonic."Coca-Cola" syrup.It was based on "Pemberton's French Wine Coca"which was patented in 1886 and sold as "an ideal nerve and tonic stimulant".He simply took out the wine and added caffeine, extract of cola and other oils.It is believed that he was trying to make a cure for headaches.

It was mixed in a 30-gal. brass kettle hung over a backyard fire.After he made a jug of the syrup he took it down to "Jacobs Pharmacy" and talked Willis E. Venabele into mixing it with water and selling it for 5cents a glass. It was marketed as a "brain and nerve tonic" in drugstores. Sales averaged nine drinks per day.

Frank M. Robinson, Pemberton's bookkeeper, was the person who suggested the name "Coca- Cola", which was chosen because both words actually named two ingredients found in the syrup.He also suggested that the name be written in the Spencerian script , a popular penmanship of that time.It was from his pen that "" signature originated. Pemberton liked the easy to remember name, so History was born.
The first year's gross sales were $50 and advertising costs were $73.96.By the next year, 1887,It went from 25 gallons of syrup to more than 1000 gallons of Syrup.

The original formula included extracts of the African kola nut and coca leaves, both strong stimulants. "Coca Cola" was one of thousands of exotic patent medicines sold in the 1800s that actually contained traces of cocaine.

On November 15th. 1886, John G. Wilkes(Who was drunk) walked into a drugstore complaining of a headache and requested a bottle of "Coca Cola" syrup. To get instant relief, he asked the "soda jerk" to mix up a glass on the spot. Rather than walk to the other end of the counter in order to mix it with cold tap water, the clerk suggested using soda water. The man remarked it really tasted great, and soon after "Coca-Cola" was in fizzy, carbonated form.

In 1888, Asa Griggs Candler bought the company from Dr. Pemberton. Later that same year, Dr. Pemberton died. By 1914, Candler had acquired a fortune of some $50 million. Baseball hall of famer Ty Cobb, a Georgia native, was another early investor in the company.

In 1894, Joseph A. Biedenharn, owner of the Biedenharn Candy Company in Vicksburg, Mississippi, first bottled "Coca Cola."
By 1903, the use of cocaine was controversial and "Coca-Cola" decided to use only "spent coca leaves." It also stopped advertising "Coca-Cola" as a cure for headaches and other ills.

In 1929, after his death, Griggs Candler's family sold the interest in "Coca-Cola" to a group of businessmen led by Ernest Woodruff for $25 million. Woodruff was appointed president of "Coca-Cola" on April 28, 1923 and stayed on the job until 1955.





COCA-COLA BOTTLES

The first type of bottle "Coke" came in was the Hutchinson stopper-type glass bottle that utilized an iron stopper and rubber washer. Joseph Biedenharn, the first bottler, originally used this type of bottle. "Coca-Cola" was usually written in script or block print in the glass front.

The second type of "Coke" bottle was the crown-top, straight-sided, and utilized a cap instead of a stopper. Millions of these bottles were used until imitations became a problem. These bottles came in amber, clear and light green colors, and were also the first to have labels on them.

The latest type of bottle used is known today as the "hobbleskirt" or contour bottle. The bottle was invented specifically for "Coca-Cola" by the Chapman Root Glass Company of Terre Haute, Indiana. They modeled the bottle after a cocoa bean. The bottle was first patented on November 16, 1915, and renewed on December 25, 1923. The actual shape of the bottle was patented in 1960.









The Coca-Cola Story:
1886.5.8: Coca-Cola was born in Atlanta, GA, by Dr. John Styth Pemberton
1886.5.29: first Coca-Cola ad appeared in the Atlanta Journal
1886: "Drink Coca-Cola"
1888: Asa G. Candler purchased Coca-Cola after Pemberton's death
1891.4.13: complete control of Coca-Cola bought for $2300 by Candler
1892.1.29: The Coca-Cola Company formed by Candler, et.al.
1893.1.31: The trademark "Coca-Cola" first registered with the U.S. patent office
1894: Joseph A. Biedenharn of Vicksburg, MS, first to bottle Coca-Cola using Hutchinson stopper-type glass bottles.
1894: first outdoor sign advertising "Coca-Cola" painted in Cartersville, Georgia.
1895: Coca-Cola sold in every state and territory in the United States.
1899: first bottling plant opened in Chattanooga, TN
1904: "Delicious and Refreshing"
1905: "Coca-Cola Revives and Sustains"
1905: Straight-sided crown-top bottles used for bottling Coca-Cola.
1906: "The Great National Temperance"
1908: "Good to the last drop"
1915: Chapman Root Glass Company of Terre Haute, Indiana created a contour Coca-Cola bottle, based on a drawing of a coca bean.
1915.11.16: the Root hobbleskirt or contour glass bottle was first patented
1916: The 6.5 oz. contour bottle was approved as a standard by bottlers
1917: "Three Million a Day"
1917: "BOTTLE PAT'D. NOV 16 1915" contour bottles in production until 1928.
1919: The Coca-Cola Company was sold by Candler to Ernest Woodruff's investment group for $25 million
1922: "Thirst Knows no season"
1923: The Coca-Cola Company was incorporated in Delaware.
1923.3: The six-bottle carboard carton was introduced.
1923.12.25: the Root contour glass bottle patent was renewed.
1925: "Six million a day"
1927: "Around the corner from everywhere"
1928: "BOTTLE PAT'D. DEC 25 1923" contour bottles, a.k.a. "christmas bottles" in production until 1938.
1929: The bell-shaped fountain glass was adopted as standard.
1929: "The pause that refreshes"
1932: "Ice-cold sunshine"
1933.4: first National Geographic issue Vol 63, No. 4 with full page color Coca-Cola advertisement.
1933: First automatic fountain dispenser was test marketed at the 1933 World's Fair in Chicago.
1938: "The best friend thirst ever had"
1938: "BOTTLE PAT. D-105529" contour bottles, a.k.a. "patent-D bottles" in production until 1951.
1939: "Coca-Cola goes along"
1940: Coca-Cola was bottled in more than 45 countries
1941.6: "Coke" first used in magazine advertisement.
1941.12.10: "Coke" first appeared on bottle
1942: "Wherever you are, whatever you do, whereever you may be, when you think of refreshment, think of ice-cold Coca-Cola"
1942: "The only thing like Coca-Cola is Coca-Cola itself. It's the real thing"
1942: "Sprite Boy" created by Haddon Sundblom was first used in promotion.
1943.6.29: General Dwight D. Eisenhower sent a telegram requesting 10 "Coca-Cola" bottling plants for the troops overseas.
1944.7.12: first billionth gallons of Coca-Cola syrup was manufactured.
1945: Coke was registered as a trademark with the US Patent Office.
1948: "Where there's Coke there's hospitality"
1949: "Coca-Cola ... along the highway to anywhere"
1952: "What you want is a Coke"
1951.5.15: Time Magazine issue featured Coca-Cola on the cover.
1951: "US PATENT OFFICE/MIN CONTENTS 6 FL OZ" contour bottles in production until 1958.
1953.4.9: second billionth gallons of Coca-Cola syrup was manufactured.
1955: King- and family-size bottles were introduced.
1955: flat-topped all steel Coca-Cola cans were produced for overseas U.S. military until 1959.
1956: "Coca-Cola ... making good things taste better"
1957: "Sign of good taste"
1958: "The cold, crisp taste of Coke"
1958.8: Fanta was first test-marketed in Boston, Chicago and San Francisco.
1958: "US PATENT OFFICE/MIN CONTENTS 6 1/2 FL OZ" contour bottles in production until 1965.
1959: "Be Really refreshed"
1959.5: third billionth gallons of Coca-Cola syrup was manufactured.
1960: 12-oz. "diamond" cans were introduced.
1960: Fanta was introduced.
1960: Purchased Minute Maid Corporation.
1960.4.12: the contour bottle shape was patented.
1961.2.1: Sprite was introduced.
1963: TAB was introduced.
1963: "Things go better with Coke"
1963.6.6: fourth billionth gallons of Coca-Cola syrup was manufactured.
1966: fifth billionth gallons of Coca-Cola syrup was manufactured.
1967: The Coca-Cola Company Foods division formed from Minute Maid Company and Duncan Foods
1969.1: sixth billionth gallons of Coca-Cola syrup was manufactured.
1970: "It's the Real Thing"
1971: "I'd like to buy the world a Coke"
1971.1: seventh billionth gallons of Coca-Cola syrup was manufactured.
1972: Mr. Pibb was introduced
1974: Sugar-free Sprite was introduced.
1975: "Look up America"
1975: Georgia Coffee was introduced in Japan.
1976: "coke adds life"
1977: The contour bottle design trademark was granted by the U.S. Patent Office.
1978: plastic PET (Polyethylene Terephthalate) bottles were introduced
1979: Mello Yello and Ramblin' root beer were introduced
1979: "Have a coke and a smile"
1982: diet Coke was introduced
1982: "Coke is it!"
1982: Purchased Columbia Pictures Industries, Inc.
1983: caffeine-free Coca-Cola, diet Coke, TAB were introduced
1983: sugar-free Sprite renamed diet Sprite
1984: diet Fanta was introduced
1985: cherry Coke, Coca-Cola with a new taste and Coca-Cola classic were introduced
1985: "We've got a Taste for You (Coca-Cola and Coca-Cola classic) America's Real Choice
1985: New Coke was introduced
1985.7: "Coca-Cola" became the first soft drink consumed in space aboard the space shuttle Challenger.
1986: "Catch the wave (Coca-Cola) Red White & You (Coca-Cola classic)
1986: Coca Cola Enterprises Inc. was formed from existing and acquired bottling operations
1987: Minute Maid brand soft drinks were introduced
1987: Columbia Pictures Entertainment, Inc. formed from Columbia and Tristar Pictures.
1989: Diet Mello Yello was introduced
1989: "Can't Beat the Feeling"
1990: Caffeine-free Coca-Cola classic and Powerade introduced
1990: "Can't beat the Real Thing"
1991: blend of recycled and virgin plastic bottles were introduced
1992: New Coke renamed Coke II
1992: more than 685 million servings of all Coca-Cola products were consumed per day worldwide
1992: 506 million 8-oz. servings of Coca-Cola brand soft drinks were consumed per day worldwide
1992: Coca-Cola was available in 195 countries and territories and appeared in more than 80 languages
1993.1: Coca-Cola worldwide unit case volume exceeded 10 billion cases
1993: "Taste It All"
1993: 20-oz contour PET plastic bottle was introduced
1993: "Always Coca-Cola"
1994: Fruitopia was introduced
1994.5.21: Bobby began collecting Coca-Cola
1994.6: "Play Red Hot Summer"
1995.6: "Play Red Hot Summer Again"
1995.8.2: Coca-Cola completes its acquisition of Barq's Inc.
1996.6: "Play Red Hot Olympic Summer"
1996.9: "Play NFL Red Zone"
1997: 0.5 liter contour PET plastic bottle was introduced
1997.1: Surge was introduced
1997.1: Citra was introduced
1997.1: "Always Coca-Cola Classic" without the white ribbon logo introduced.
1997.3: contour-shaped aluminum cans test-marketed in Terre Haute, Indiana and four other cities in the U.S.
1997.6: "Coca-Cola Incredible Summer"
1997.10.18: CEO Roberto C. Goizueta since 1981 died at age 65 in Atlanta, Georgia.
1997.10.23: M. Douglas Ivester became the 10th Chairman of the board.
1998.05: 1998 Coca-Cola Card Promotion
1998.12.11: Coca-Cola Buys Cadbury Schweppes' non-US beverage business.
1999.05: 1999 Coca-Cola Card Promotion
1999.06: Coca-Cola Red Hot Summer Days Promotion
2000.01: "Enjoy Coca-Cola"
2000.02.17: Doug Daft became the 11th Chairman of the board
2000.03.7: World of Coca-Cola Las Vegas Museum closed.
2000.03.19: Coca-Cola Fifth Avenue Store closed.
2000.04: Everything Coca-Cola store in Tokyo opened.
2000.06: Coca-Cola Discover Can $1 million promotion
2000.07: Coca-Cola Online Store opened.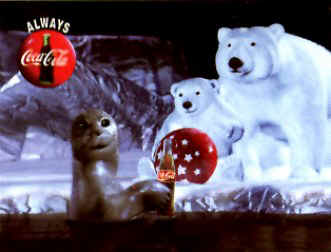 Listed: The Original Coca-Cola Slogans

1886 - Drink Coca-Cola
1893 - The ideal brain tonic
1904 - Delicious And Refreshing
1904 - Coca-Cola ... satisfies
1905 - Coca-Cola Revives And Sustains
1905 - Wherever you go ... you will find Coca-Cola
1906 - The drink of quality
1906 - The Great National Temperance Drink
1907 - Coca-Cola is full of vim, vigor and go - is a snappy drink
1908 - Get the genuine
1909 - Whenever you see an arrow, think of Coca-Cola
1911 - Enjoy a glass of liquid laughter
1917 - Three Million A Day
1920 - Coca-Cola ... good things from 9 chimes poured into a single glass
1922 - Thirst Knows No Season
1923 - Enjoy thirst
1924 - Pause, and refresh yourself
1925 - With a drink so good ... 'tis folly to be thirsty
1925 - Six Million A Day
1926 - Coca-Cola is the shortest distance between thirst and refreshment
1927 - It had to be good to get where it is
1927 - At the little red sign
1927 - Around The Corner From Everywhere
1928 - Coca-Cola ... pure drink of natural flavors
1929 - The best served drink in the world
1929 - The Pause That Refreshes
1930 - Meet me at the soda fountain
1931 - Treat yourself right
1932 - Thirst come, thirst served
1932 - Ice-Cold Sunshine
1933 - Bounce back to normal
1933 - Don't wear a tired, thirsty face
1934 - When it's hard to get started, start with a Coca~Cola
1935 - Coca-Cola ... the pause that brings friends together
1936 - Get the feel of wholesome refreshment
1937 - America's favorite moment
1937 - Stop for a pause ... Go refreshed
1938 - The Best Friend Thirst Ever Had
1938 - Thirst asks nothing more
1939 - That taste-good feeling
1939 - Coca-Cola Goes Along
1939 - Coca-Cola has the taste thirst goes for
1939 - Whoever you are, whatever you do, wherever you may be, when you think of refreshment, think of ice-cold Coca-Cola
1940 - Within easy reach of your thirst
1940 - America's year round answer to thirst
1941 - Work refreshed
1941 - Coca-Cola belongs
1942 - The only thing like Coca-Cola is Coca-Cola itself
1942 - Coca-Cola has that extra something
1942 - The best is always the better buy
1942 - It's the real thing
1943 - Universal symbol of the American way of life ... Coca-Cola
1943 - With a taste all its own
1945 - The happy symbol of a friendly way of life
1945 - Why grow thirsty?
1946 - The world's friendliest club ... admission 5¢ - - - - - - - - - - - - -- - ---- 1946 - Yes.
1947 - Coca-Cola ... continuous quality
1947 - Continuous quality is quality you trust
1947 - The quality of Coca-Cola is a friendly quality you can always trust
1948 - Where There's Coke, There's Hospitality
1949 - Coca-Cola...Along The Highway To Anywhere
1950 - Thirst, too, seeks quality
1951 - For home and hospitality
1951 - You taste its quality
1952 - What You Want Is A Coke
1952 - Coke follows thirst everywhere
1953 - Drive safely ... Drive refreshed
1953 - Midsummer magic
1955 - Bright and bracing as sunshine
1956 - Coca-Cola...Making Good Things Taste Better
1956 - The friendliest drink on earth
1956 - Gives a bright little life
1956 - Coca-Cola puts you at your sparkling best
1957 - Sign Of Good Taste
1958 - The Cold, Crisp Taste Of Coke
1959 - Cheerful life of Coke
1959 - Relax refreshed with ice-cold Coca-Cola
1959 - Be Really Refreshed
1959 - The cold, crisp taste that so deeply satisfies
1961 - Coca-Cola refreshed you best
1963 - The big bold taste that's always just right
1963 - Things Go Better With Coke
1963 - Go better refreshed
1964 - Coca-Cola gives that special zing ... refreshed best
1965 - Enjoy Coca-Cola
1965 - For extra fun - take more than one! Take an extra carton of Coke!
1966 - Coca-Cola has the taste you never get tired of
1968 - Tells your thirsty to go fly a kite
1968 - Wave alter wave - drink after drink
1968 - For twice the convenience, bring home two cartons of Coke
1968 - It's twice time
1970 - It's The Real Thing
1971 - I'd Like To Buy The World A Coke
1972 - Coke ... goes with the good times
1975 - Look Up America, see what we've got
1976 - Coke Adds Life
1979 - Have A Coke And A Smile
1980 - Have a Coke and a smile
1982 - Coke Is It!
1985 - We've Got A Taste For You (New Coca-Cola)
America's Real Choice (Coca-Cola classic)
1986 - Catch The Wave (Coca-Cola)
Red White & You (Coca-Cola classic)
1988 - Can't Beat The Feeling
1989 - Can't beat the real thing
1991 - Can't Beat The Real Thing
1992 - Can't beat the real thing
1993 - Always Coca-Cola
1993 - Taste it all
1994 - Play Red Hot Summer
1995 - Play Red Hot Summer again


Did You Know That Coca-Cola was invented over 110 years ago in some guys' back yard?

Or also, it was invented over 10 years before it's major competetor, Pepsi?

By 1985, the coca-cola company was tired of the original formula, so they introduced something called the new coke or now known in Canada Or The US as Coke II.

The Public wasn't happy at all about this one. So in 1986, The Coca-Cola Company introduced it's original formula now known as Coca-Cola Classic.

PRODUCT INTRODUCTION Here is a list of the products introduced since Coca-Cola was first made public and sold in 1886.

1886 - Coca-Cola
1960 - Fanta (Line of flavors)
1961 - Sprite
1963 - TAB
1966 - Fresca
1972 - Mr Pibb
1974 - Sugar-free Sprite
1979 - Mello Yello, Ramblin Root Beer
1982 - Diet Coke
1983 - Caffeine-free Coca-Cola, Caffiene-free Diet Coke, Caffiene-free
TAB, Sugar-free Sprite renamed Diet Sprite
1984 - Diet Fanta
1985 - Cherry Coke, Coca-Cola with a new taste, Coca-Cola Classic
1986 - Diet Cherry Coke
1987 - Minute Maid Orange soft drink, Diet Minute Maid Orange soft
drink, Minute Maid Lemon-Lime soft drink, Diet Minute Maid
Lemon-Lime soft drink
1989 - Diet Mello Yello
1990 - Caffeine-free Coca-Cola Classic, POWERaDE
1992 - New Coke renamed Coke II, Nestea
1993 - Minute Maid juices
1994 - Fruitopia
1997 - Surge